BP93420D drukverschiltransmitter
Beschrijving
BP93420D-serie diffuus silicium differentiële zenders bestaan ​​uit zowel een isolatiemembraan verschildruksensor en een geïntegreerd circuit, Heeft kenmerken van hoge precisie, goede stabiliteit, hoge betrouwbaarheid en goede gevoeligheid. Kan ook een krachtige microprocessor (MCU) bouwen die niet-lineariteit kan corrigeren en de temperatuurafwijking kan compenseren. Zorg voor nauwkeurige gegevensoverdracht, diagnoses van lokale apparatuur en communicatie over lange afstanden in twee richtingen.
Voorzien zijn van
 Pas verouderingstest, prestaties zijn betrouwbaar en stabiel
 Markering: ExiaIICT6;
 CE-certificering
Toepassing:
 Compatibel met 316LSS, niet-corrosieve gassen en vloeistoffen
 Winddruk & stroomsnelheid in industrieproces.
 Meten van druk van pijpleiding en vuurpot
 Aardolie-industrie, chemische industrie
 Meteorologische monitoring
Specificatie:
Range

Ⅱ: 0~200Pa-..1000Kpa

Ⅲ: 0~20Kpa-..35Kpa...~2MPa

Medium

Ⅱ: Dry gases compatible with Aluminium casting or plastic

Ⅲ:Liquids or gases compatible with 316LSS

Proof pressure

1.5X rated range or 7MPa(Which ever is less)

Accuracy

±0.25%(Typical) ±0.5%(Max.)

Static pressure

5X rated range or 7MPa which ever is less

Long term stability

±0.5%F.S/year(≤200KPa) ±0.2%F.S/year(≤2000KPa)

Zero temperature Drift

±0.03%F.S/℃(≤100KPa) ±0.02%F.S/℃(>100KPa)

Span temperature Drift

±0.03%F.S/℃(≤100KPa) ±0.02%F.S/℃(>100KPa)

Operating temperature range

-20℃~80℃

Storage temperature range

-40℃~120℃

Power supply

15~36VDC

Output signal

Ⅱ:4~20mA

Ⅲ:4~20mA 0~10/20mA 0/1~5/10VDC

Pressure port

G1/4 Female ¢6 air cock or customize

Housing material

1Cr18Ni9Ti Stainless steel , aluminium casting or plastic

Diaphragm material

316L

O ring

Fluororubber

Cable

Polyethylene ventilate cable

Insulation resistance

100MΩ,100VDC

Protection

IP65
Dimensie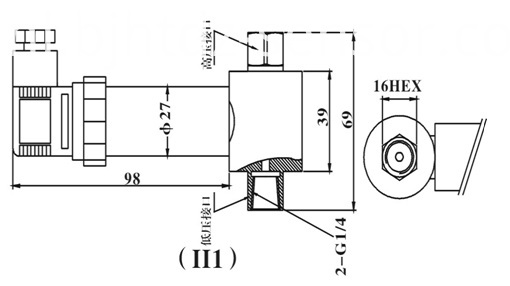 Bestel notitie
1. Materiaal moet compatibel zijn met natte delen.
2. Om ervoor te zorgen dat de producten betrouwbaar kunnen werken, raden wij aan dat de klant een drieklepsgroep installeert tussen het meetpunt en de transmitter die ervoor zorgt dat de mediastroom langzaam en uniform naar de positieve en negatieve holte stroomt.
3. Stel voor om tijdens het installeren twee drukpoorten op hetzelfde niveau te plaatsen om de invloed op de positie te minimaliseren.
4. Speciale eis, zoals een sterke schok, momentvibratie, sterk elektromagnetisme, radiofrequentie-interferentie, gelieve ons te raadplegen.
Garantie:
Druktransmitters hebben een beperkte garantie van een jaar op de oorspronkelijke koper. Hengtong zal defecte producten gratis vervangen of repareren. Deze garantie is niet van toepassing op eenheden die zijn gewijzigd, misbruikt of verwaarloosd.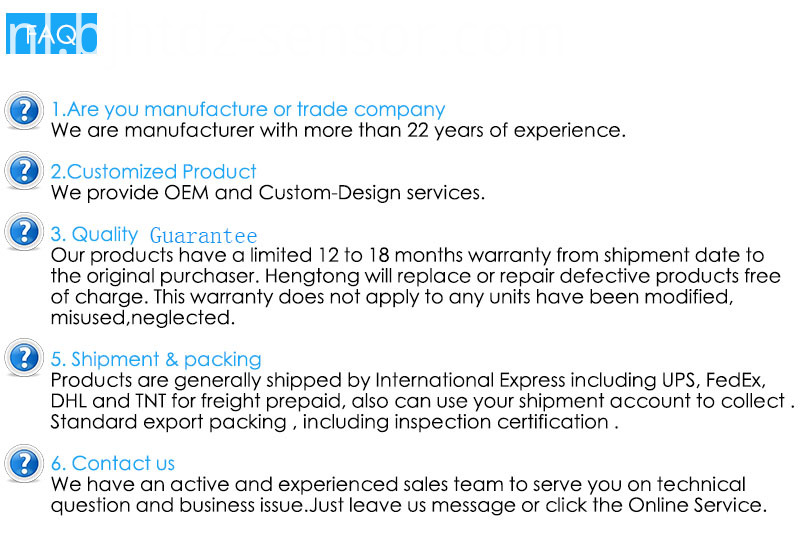 Neem contact met ons op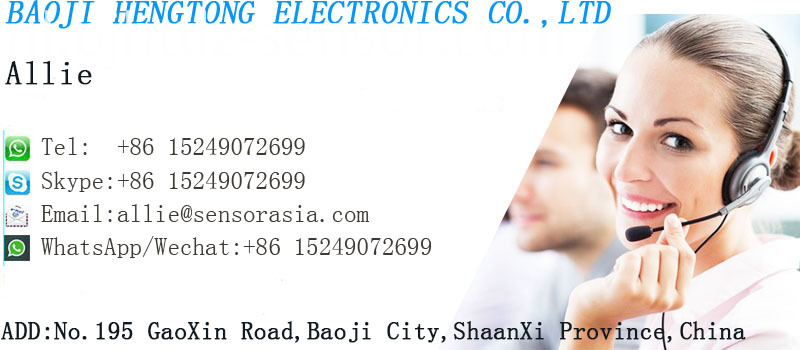 Product Categorie : Drukverschiltransmitter